Naples, FL - tel. 239-262-5883 • Bonita Springs, FL - tel. 239-949-2020

Please feel free to make an appointment. One of our staff will contact you directly to work out a time that is convenient for you!

Welcome to Advanced Eye Care & Laser Center

Periodical eyes checkup is very important for your overall health. Besides vision, your eyes reflect a whole array of body deficiencies. Often patients came to the Eye Doctor for a 20/20 and after the eye exam find out heart, digestion or circulatory problems. Early prevention and treatment will keep you healthier.

Free Consultation
for Rejuvenation treatments, ReSTOR Lens, Lasik
Join our #1 Concierge ophthalmology club
and receive special discounts on Aesthetic Procedures, Lasik, and Exclusive Italian Eyeglasses
No Insurance, No Problem
$150.00 Complete eye exam
Corporate Discounts
If you or a family member works for a company with more than 30 employees, you may qualify for our Corporate Discount Program, which can be set up though the HR department at his or her company. Download the HR Corporate Discount flyer and take it to your HR director today.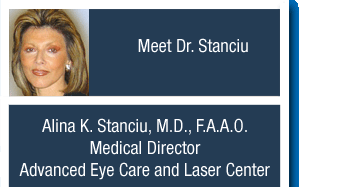 After graduating S.U.N.Y. at Stony Brook Medical School, Dr. Stanciu completed her Ophtalmology residency training at Brookdale Hospital Medical Center in New York in 1985. She now specializes in Cataract, Refractive, and Eye Laser Surgery and is Medical Director of Advanced Eye Care and Laser Center.
Dr. Stanciu is a board-certified Ophthalmologist with over 20 years' experience in specialized medical and surgical eye care.

Today, people are healthier and living longer than ever before. Many of our patients have told us that when they look in the mirror, the person they see looks older than they feel. They want to lead not only a healthy life, but a younger looking one. They want to look as good on the outside as they feel on the inside. With today's new innovative cosmetic procedures, we can meet their goals of a more youthful appearance.